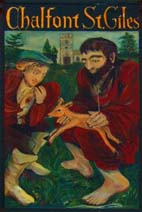 This site focuses on the history of specific aspects of Chalfont St Giles in Buckinghamshire: the village, the parish and its people. It also gives you a guide and links to other sources for general history of the parish. What you will find here is information about aspects of the history of the parish where no obvious answers are available from the published books or websites.

This is a revised version with much additional material but it remains a work in progress so I apologise in advance for errors and omissions.

Please note some material is now provided in the form of PDF files and people with old browsers may need PDF viewing software.
I do not claim to have all the answers so if you have more or better information I would welcome your input and comments.