The Roughwood Estate
Roughwood Park is a late 19th century mansion newly built on land whose history can be traced to the 14th century. Roughwood Farm, which was at one time the focus of the estate, is however an old habitation site. Like most other estates in the area Roughwood was gradually broken up in the 20th century and, where planning permission could be obtained, developed for housing.
This map shows, in blue, the location and size of the Rowwood estate in 1840 when it was owned by William Morton. It remained this size until just after 1910. The background map is circa 1880. It shows how the estate spread across both Chalfont St Giles and Chalfont St Peter parishes. The adjoining landholders in these parishes in 1840 are also shown. The owners across the border in Herts are not yet known.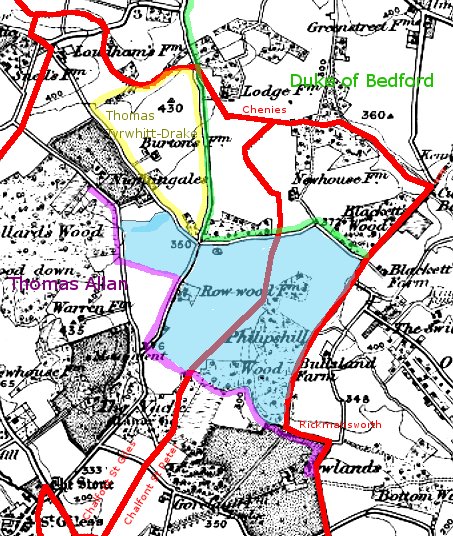 The name Roughwood is the modernised version of Rowwood (or Rowewood or Rotewood) which is how it has been shown in most old documents. All of these words have a similar meaning of "rough wood".
The name first appears in a Deed of 1296 transferring some land which was adjacent. This land abutted onto "Rowewood". (Historical Manuscripts Commission Report 15.App. vii}.
It appears as a distinct estate when Henry Spigurnal held land called La Rowtewood of Matthew de la Vache for payment of 12s, four capons, and the duty to attend the Vache Manor Court. He also held land of Missenden Abbey and of Alexander Cheyne. Henry died in 1328 and his son Thomas Spigurnal succeeded to the estate. (Victoria County History of Bucks.)
As we will see, these Spigurnal lands remained together as a block right through until modern times. The map above shows the estate in about 1840, when we have good records from the Tithe Survey. It shows the way the estate extended across both the Chalfont St Giles and Chalfont St Peter parishes. This block of land is consistent with the description of the Henry Spigurnal holding. Although Thomas Spigurnal inherited the lands in 1328, he must have quickly sold them because by 1333 his lands are shown in a survey of all the Missenden Abbey lands, as being held by Matthew de la Vache. (Elvey, E M. Records of Bucks 1961 p 20.) The lands remained as part of the Vache Manor until 1696 when James Clayton, the then owner, sold them to Henry Gould of Oak End. The Deed of Sale of 1696 (D-RA/2/5) listed all the fields so it is possible to compare this list with a detailed list in the Tithe Survey of 1840. Some fields tie up accurately, but there are some differences which could be due to smaller enclosures in 1840 than in 1696. There is however also a difference in the overall size of the estate. In 1840 it is 38 acres larger than in 1696. Looking at the detail of the fields would lead me to speculate that there was a piece of land or wood in the far north west corner of the estate, within Chalfont St Peter parish, that was not owned by James Clayton and which was subsequently acquired during the 1700's.
Its history from 1696, until we see it in 1840 in the ownership of William Morton, is complex. The very complicated and involved legal descent of the estate can be summarised as follows. Henry Gould, died in 1739, leaving a widow and two daughters, Mary and Sarah. He bequeathed the whole of his estates, which included Roughwood, and Oak End in Iver in equal shares between his two daughters. Sarah married, first, a Richard Ellys and after he died, Sir Francis Dashwood of West Wycombe. They both died childless so her half share descended to a nephew of Sir Francis, a John Dashwood King. Mary married and had four daughters each of whom inherited under Henry Gould's Will, one quarter of Mary's half share. Two daughters sold their 1/8 share to a 3rd daughter, who died without any children. She left her three 1/8 shares to the son of the fourth daughter, who had by this time inherited the remaining 1/8. He now owned a full one half share of the combined Roughwood, and Oak End Estates, which he proceeded to sell to a Robert Sewell. (D107/13) Robert Sewell and John Dashwood King came to an arrangement to join their shares together, and then to split the estate with Roughwood being wholly owned by Dashwood King and Oak End, wholly owned by Sewell.
Because Roughwood was land remote from the main holdings of the Dashwood's it was sold off in about 1820 to William Morton, a prosperous lace merchant of Amersham. He was building up a significant landholding which included Hill Farm and Town Farm in Chalfont St Giles as well as land in Bledlow. At the time of the Tithe Survey he had leased out Roughwood to William Crouch who was also farming Warren Farm, the home farm for the Vache Estate. But by the time of the Census in 1851 Rowwood Farm was occupied by George Crouch who was only 21 and described as a farmer's son. There was only one other property at that time down Rowwood Lane and that was occupied by William Payne, an agricultural labourer, and his family
On William Morton's death in December 1860 he bequeathed Roughwood to his son Thomas Honnor Morton who leased out the farm. Thomas took out a mortgage for £5,000 on the property in 1862. He must have used this to buy property in Clapham Road, Surrey, which is where he was in 1868 when he sold the whole estate to William Rush of Norwood Green, Southall for £13,650. He had previously entered into an agreement in May 1866, with Job Pierce of High Wycombe to grub up all of the 137 acres of wood in Phillips Hill Wood and to turn it into arable in exchange for Job Pierce having the right to cart away the timber. This was to have been carried out over a three-year period but since Thomas Morton entered into a sale agreement of the whole estate in 1868, the agreement with Job Pierce was terminated in 1869.(DX 381/3) This probably accounts for why today part of Phillips Hill is wooded and part is arable.
William Rush owned the land for 12 years before he died in 1880. The Trustees of his Will sold the whole estate in September 1881 for £13,000 to George James Robinson of Chorleywood House. Earlier in that year the 1881 Census had been taken and there are now six households along Rowwood Lane. Coming from Burtons Lane the first is occupied by Henry Reed, who is a carter, and his family. The next is uninhabited. The third is occupied by George Critcher, who was also a Carter, and his wife. The next is again uninhabited. The fourth is occupied by William Ward, who is a gamekeeper, his wife and three children. The last one is occupied by Henry Moore, who is described as a printer and writer, and was born in Somerset. His wife, Frances, was a dressmaker and was born in Clapham, Surrey. They have three daughters and three sons, all born in Battersea.
Up to this point in time the whole of the land had been an agricultural holding. When G J Robinson acquired it a new chapter started. In 1882 he extended the estate into Chorleywood by buying Little Blacketts Farm and 56 acres of land. He now preceded to develop the whole estate. In 1887 he had built Roughwood Park, a substantial mansion house set in about 80 acres of parkland. (P W Phipps).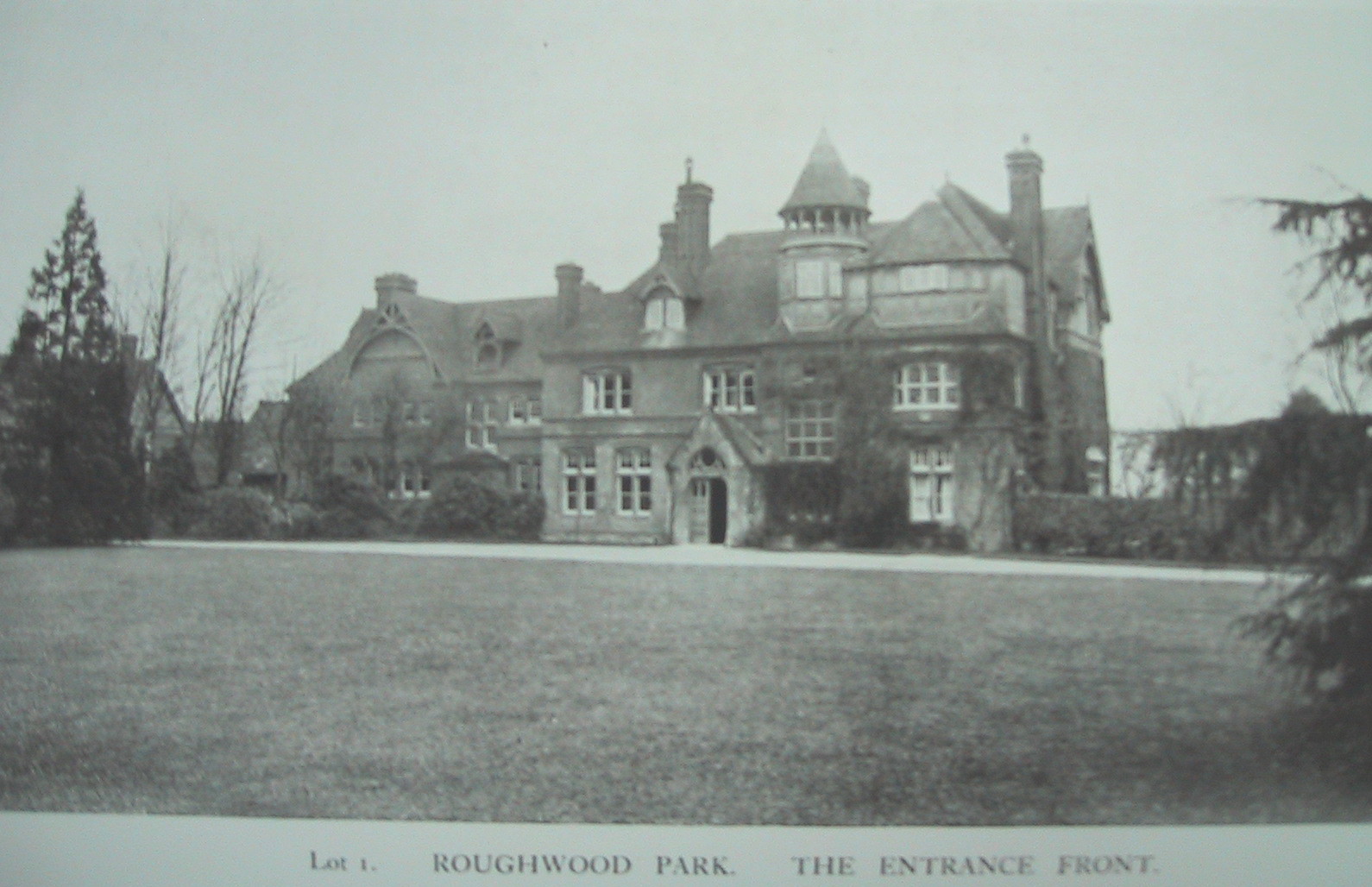 ROUGHWOOD PARK circa 1913
The house was at the north end of the estate, probably to gain the benefit of the views down the valley. G J Robinson must have built this as a speculation, because in 1893 he put the whole of the estate, including the new house up for sale. This was not successful as it was taken off the market and Robinson proceeded to make further development. He built a substantial house called Roughwood Croft alongside Nightingales Lane, and made improvements to Roughwood Farm House. In December 1896 he leased Roughwood Park to Robert Brocklehurst for seven years (DX-655/2), whilst he lived in Roughwood Croft. We do not know what happened at the end of the seven year lease but we do know from the rating valuation records that in August 1909 the main house was unoccupied. Roughwood Farm and 111 acres of land had been leased to a Captain Alfred Ernest Williams who appears to have been there until about 1914. G J Robinson died on the 21st of May 1907 and the estate was placed into the hands of Trustees. They had a long argument with the Inland Revenue about the tax due on the estate which does not seem to have been resolved until about 1912. The Trustees sold off a number of plots in Chorleywood for housebuilding and, in 1910, a strip of land along the length of Chalfont Lane was sold to Davis and Sons for property development.

Apart from these earlier sales the Trustees eventually put the whole estate up for sale as a series of lots in July 1913. Whilst some plots sold quickly, others took some time. From the Rating Valuation lists in the Bucks Record Office (DC9/15/2) it appears that in February 1916 Roughwood Park House was "in a bad state of repair and empty" but by April 1919 the house with 60 acres had been bought by T A Agelasto. Roughwood Farm with 105 acres was bought before April 1914 by E A Sandford-Fawcett, but 6 acres which had been part of the farm were bought by Alfred Gee who rented then to William Payne. Sandford-Fawcett occupied the house at the farm which he now called Roughwood Barns. He leased out the land to John Ward. On the other side of Roughwood Lane and running across to Nightingales Lane, was the land of Roughwood Croft which Robinson was occupying till he died. This house appears to have remained in the possession of the Trustees for some considerable time although leased, with 9 acres, to F C Garrick. The majority of its lands amounting to about 35 acres were leased to William Payne.

Returning to the story of the main house. Triphon E A Agelasto who bought the house in about 1918 lived there until he died 21 June 1947. The Agelasto family was part of an very extended and interelated group of families of Greek origin. The story of these families and their involvement in undercover activities for the Allies is well told by Christopher Long.
Although I have not confirmed it, some people looking into the history of SOE activities around Bletchley Park have said that Roughwood Park was an SOE training site, No 42 commanded by a Maj. V. E. Blomfield.
REFERENCES. Unless otherwise specified, all references given above refer to catalogue references at the Centre for Buckinghamshire Studies at Aylesbury. (County Record Office.)
This print is a section of the Chalfont History website.
Please come back soon.
John Dodd ©2012 www.chalfonthistory.co.uk